PROACTIVE ENDPOINT
PROTECTION
Morphisec's Unified Threat Prevention Platform helps
protect organisations from the most dangerous cyberattacks.
MORPHISECMOVING TARGET DEFENSE
Threats to global businesses come hard and fast, often without indicators. Protecting your business has never been more important. Security teams can no longer remain static in the face of highly destructive attacks.

It's time to rethink your cyber security approach with Moving Target Defense from Morphisec.
Together with Morphisec, we help our partners offer 4 major solutions: Advanced Endpoint Protection, Virtual Desktop Protection, Cloud Workload Protection, Server Protection
ADVANCED ENDPOINT
PROTECTION
Over 80% of attacks happen on the endpoint and advanced evasive threats pose the biggest risk. Morphisec utilizes advanced threat prevention to preemptively prevent the most dangerous endpoint attacks – no guessing, no detecting, no hunting.
VIRTUAL DESKTOP
PROTECTION
Virtual Desktop Infrastructure (VDI) deployed at the edge are still endpoints vulnerable to attacks. Morphisec advanced protection for VDI hardens the virtualized user instance and centralized server while having no impact on performance or consolidation ratios.
CLOUD WORKLOAD
PROTECTION
Morphisec has engineered a cloud workload protection solution to protect Linux and Windows servers from the most evasive and advanced attacks with zero impact on performance.
Morphisec's Moving Target Defense for Server Protection, extends the lightweight agent of the Morphisec platform to securing your most critical assets -- whether they run on Windows or Linux.
Morphisec Protects Servers Across
All Attack Vectors

ADMIN ACCESS
Morphisec prevents browser,
document, and supply
chain attacks that target
servers during admin logon
sessions.

Lateral Movement
Morphisec stops attackers
moving laterally from a
workstation to a server or
from server to server

Virtual Application
Morphisec's lightweight
agent means virtual apps
can be secure without
memory constraints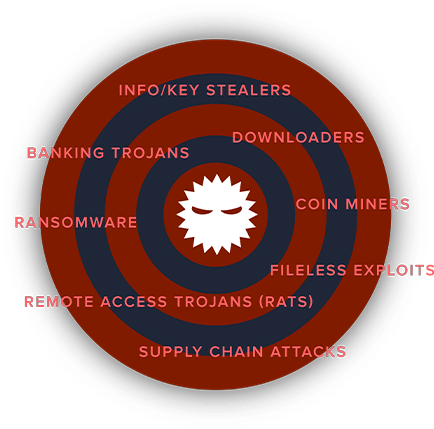 Morphisec reduces your organization's risk exposure without
affecting business productivity or creating work for your
security team. Let our experts show you how it works.
Join our mailing list today to get the first hand information about the upcoming events and latest trends.